We have been so busy with moving to our beautiful 60 acre property and me with my new career (and endless amounts of studying) that I haven't been able to dedicate the time to give credit where credit is due in my day-to-day cooking. I will say, however, that I have been doing a lot of sheet-pan cooking during the move--it's so easy and minimal clean-up. Just stick it in the oven and come back an hour later.
Now that I am getting back in my groove, I was able to browse a few new recipes for this memorial day weekend which is being spent with our wonderful new neighbors.
The hubby smoked a brisket, ribs and brats with his own favorite seasonings--dee-licious!! We don't call him the "Grill King" for nothing. :)
I made fresh guacamole and salsa and then used google for Baked Beans, Potato Salad and Strawberry Pretzel dessert. [There are so many different varieties of baked beans and potato salad, it's fun to google a new one every time it's called for.]
First we start with The Pioneer Woman, Ree Drummond--Baked Beans:
I used canellini, navy and pinto beans for mine (rather than pork and beans). I also added garlic and black pepper, omitting the green pepper since the hubby can't eat it. Probably some of the best baked beans I've ever had. I cooked it on the stove for about an hour to thicken up and then used my rice cooker as a warmer since I didn't have a crockpot the right size.
Next up from Food.com Dill Pickle and Mustard Potato Salad.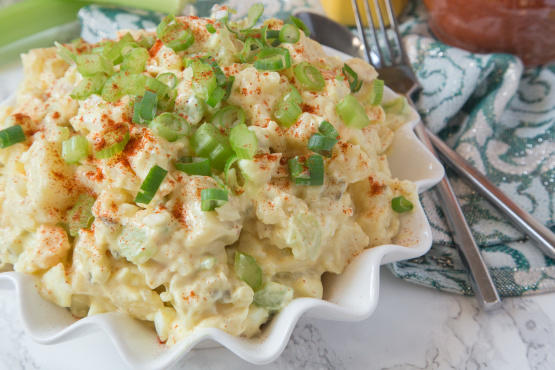 I did half red potatoes and half russet (because that's what I had). I also used my french fry cutter to get quick cuts length ways then hand cut across the width. Cuts my time in half and makes nice (mostly) perfect cubes. I didn't add the cream and added black pepper and celery seed as well as at least a half cup of mustard. The hubby likes very mustardy potato salad so I'm always generous with the pickle juice and mustard. When I want to be extra healthy I use yogurt instead of mayo.
Finally for dessert I can always count on Taste of Home to suggest delicious old fashioned recipes. I had tasted Strawberry Pretzel dessert when I was a kid, and after making it, realized it is still just as tasty. It's a great recipe particularly for a gathering with children and the elderly--ok, it's great for everyone. :)
I used Dream Whip, mostly because it stores on the shelf for a long time, saves space in my freezer and you don't have to wait for it to thaw. I didn't have six hours to let it set up, but it worked out well to keep in the freezer and turned out perfect.